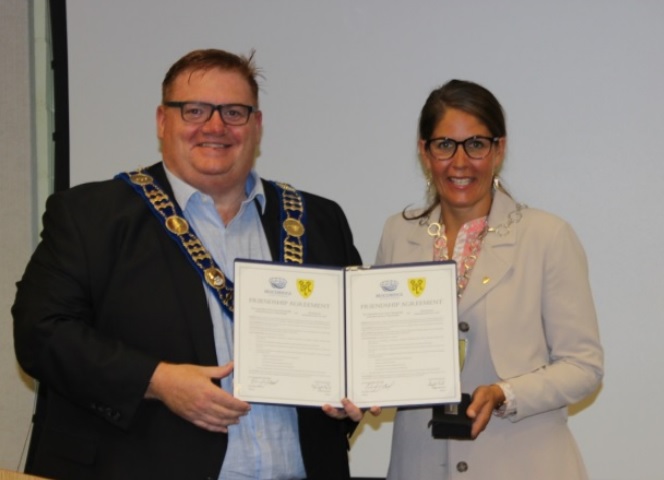 Mayor Graydon Smith and the members of Bracebridge Town Council welcomed Mayor Heidi Granli from Gol kommune, Norway to the regular Council meeting held on Wednesday, June 28, 2017. Mayor Granli, together with four other representatives from Gol, has travelled to Bracebridge for a seven-day visit to Muskoka.
There has been a unique historical link between the Town of Bracebridge and Gol kommune, Norway for over six decades. In recognition of that connection, the Town and Gol executed a Friendship Agreement in 2010 and the delegation's visit this year continues the tradition of visits between the two communities.
Prior to the Council meeting, Mayor Smith and Mayor Granli unveiled a brass plaque beside a new Norway Spruce that was planted this week to commemorate the Gol delegation's visit to Bracebridge.
The Town of Bracebridge has planted two similar trees. The first spruce was planted to commemorate the visit of Mayor Jan-Halvard Brekko to Bracebridge in 2004. Scott Northmore was the Mayor of Bracebridge at the time.
The second spruce was planted in 2011 by Mayor Smith in honour of the visit of Deputy Mayor Kåre Olav Solhjell Norwegians and in remembrance of those who died during the July 11, 2011 attack on the government buildings in Oslo and at Utøya, Norway.
During the Council meeting, the Mayors re-signed the Friendship Agreement originally signed by their respective predecessors in 2010. The Agreement outlines the commitment to foster an ongoing sustained friendship and positive relations between the two communities with special focus on building a strong connection between the youth of Bracebridge and Gol. Additionally, Mayor Smith presented Mayor Granli with a plaque commemorating the visit and Mayor addressed Council on behalf of the delegation.
Mayor Smith said "It gives me great pleasure to renew the original Friendship Agreement that was signed by Mayor Don Coates and Mayor Olaug Grønseth Granli in 2010. Our on-going relationship with Gol, is very important to Bracebridge and we are very pleased to be able to host our good friends during the Town's Canada 150 celebrations."
Mayor Heidi Granli presented Mayor Smith with a sheepskin hide that commemorates Canada's 150th Anniversary along with a piece of contemporary art completed by a student in Gol.
The Gol delegation arrived in Bracebridge on June 26th and will remain in the community until July 3rd when they fly back to Norway. During their visit the delegation will attend a number of formal events; meet with local business owners; and hold discussions with school board officials to learn about Ontario's education system. Additionally, the visit has afforded the delegation sufficient time to explore Bracebridge and part of Muskoka.
Photo Credit: Town of Bracebridge