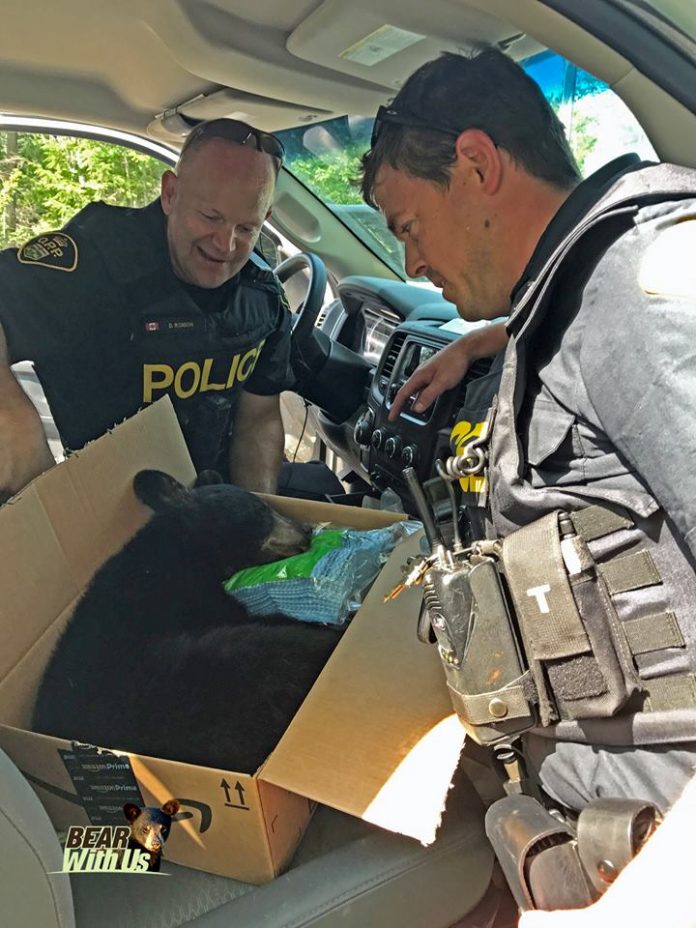 Two Bracebridge OPP Officers sprang into action to help a small bear cub yesterday. Police were alerted by a concerned motorist that the cub was hit by a vehicle on a busy highway near Bracebridge, just after 9 a.m. on July 31st.
Officers Dean Ronson and James Reading attended the scene and waited near the bear until Mike, from Bear With Us Sanctuary and Rehabilitation Centre for Bears was able to assist. The mother bear and a sibling were across the road observing the people near her cub. The police did their best to keep the family there because of a concern that the traffic would be a hazard to the other small member of the bear family.
When Mike arrived, the small injured cub managed to climb a maple tree to a height of about 20 feet. Fortunately, Dr. Trinita Barbosa of the National Wildlife Centre was in the area and was able to attend the scene to help Mike and the Police. The bear cub appeared badly injured and ready to fall out of the tree.
Officer Reading went to his patrol car and got his traffic vest. The two Police Officers and Mike held tightly to the police vest and waited under the cub. When he fell, he was caught safely in the Police vest and brought gently to the ground. After some initial vet care, the cub is scheduled to have X-rays performed Tuesday.
You can follow the updates of the cub's condition on the Bear With Us Facebook page.
Photo Credit: Bear With Us via Facebook