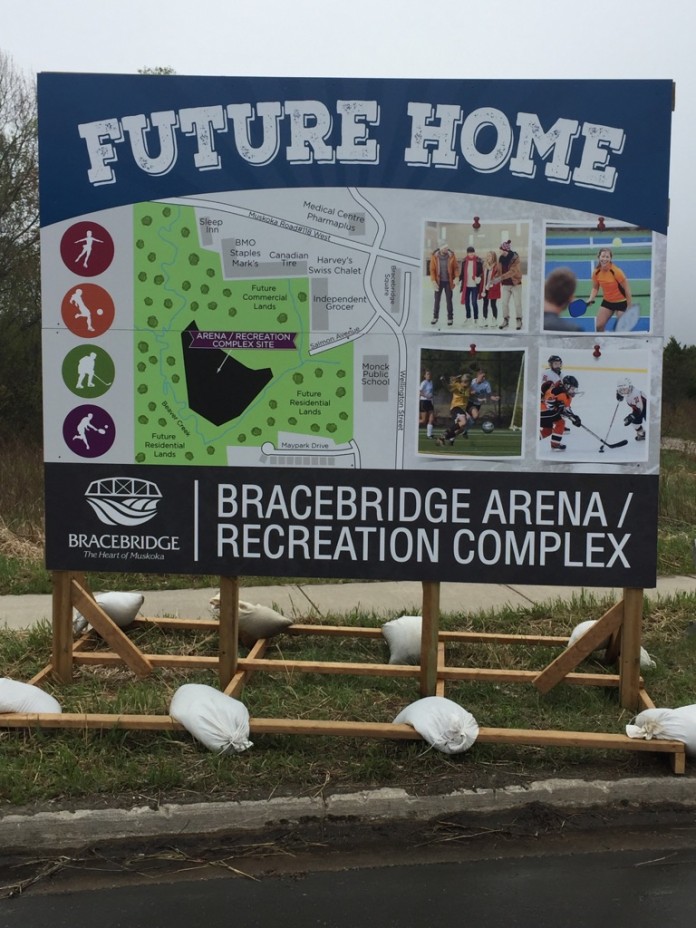 On Friday, Mayor Graydon Smith on behalf of Council, along with Cindy and Monte Goble of Willen Investments Inc., were on hand to announce a significant donation of land that will serve as the future site for a new Bracebridge Arena/Recreation Complex.
"It gives me great pleasure to announce that the Willen Investments Inc. has generously donated 22 acres of land, located beyond the current end of Salmon Avenue, for the development of a new recreation facility in our community. The Town is truly grateful to the Goble family for supporting the residents of Bracebridge in our pursuit to replace the aging Memorial Arena," said Mayor Smith.
The replacement of the existing 67-year-old facility has been identified by Council as a priority project in the coming years. After forming a working group of Councillors and staff during the previous term to examine other facilities and work with local stakeholders, a preliminary feasibility plan was completed in late 2014. Included in this plan were a number of potential sites that would be suitable for the project.
Mayor Smith says the Town examined locations throughout the community and that the parcel of land owned by the Goble's was seen as the best fit for the project even before the possibility of a donation was discussed.
"Not only will this location keep our arena in the urban core, it will also help strengthen the surrounding area while paving the way for new private development to occur," he said.
Cindy Goble expressed her happiness at making the land available.
"My family has owned this property in Bracebridge for over 30 years and it is our pleasure to contribute a substantial portion of our land for the betterment of the citizens of the Town of Bracebridge," she says. "We are excited to watch this development blossom and look forward to this community coming together in the name of sport and recreation." 
With the site now secured, the Town will proceed with the next steps to move the project forward, developing a design and concept plan as well as more detailed pricing which it will use to formulate a funding strategy.
"Recognizing the Federal Government has recently announced that recreation facilities will be part of the new Building Canada Fund and knowing that Provincial funding for major new facilities may also be available, the Town will work with senior levels of Government to maximize their contributions to this important project" said Mayor Smith. "There is exciting work ahead of us to bring this project to fruition."