Bala's 27th annual Trek To Bethlehem is just around the corner, offering an evening of Christmas magic starting at 6 p.m. on Dec. 7.
Every year the Trek to Bethlehem leads visitors from the Bala Community Centre to the arena with a biblical village lit by fire pits along the way. Costumed guides lead guests through the trek where they meet the three magi and choirs of angels along with other biblical characters. After making their way through the marketplace and inn, groups get to witness the manger scene before ending their adventure at the Jerusalem Inn, also known as the Bala Arena, for hot chocolate and cookies. The annual trek almost didn't happen this year after three key volunteers decided to retire, but Lynn Randall-Foster stepped up to fill the role of chair for the event, which was held by Pat Gidley for the past 11 years.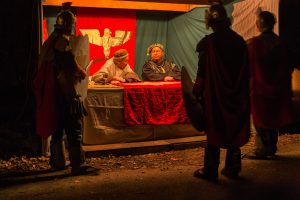 "Many of us had been doing it for the 27 years and it just needed a little bit of revitalizing," Gidley said. "It just needed a little surge of energy, which we got, and we're really happy. None of us wanted it to quit, but we were all just a little weary."
Gidley has been working as co-chair with Randall-Foster to help her learn the ins and outs of running the event. She said she's happy to pass the event on to Randall-Foster and other new volunteers because she knows it will continue to be awesome.
"It's bittersweet because I've really enjoyed it," Gidley said. "I've really had wonderful experiences every year and I'm sort of sad to leave, but I also know it's good for both the organization and me to move on and have somebody new come in and take charge."
Organizing the trek has been a big learning experience for Randall-Foster since she's never been able to attend herself, Gidley said, so she'll get to witness the magic for herself for the first time this week. Whether it's their first time or not, Gidley encourages all people to come out and experience the trek.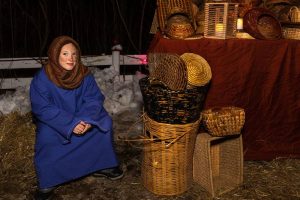 The event is family friendly and appeals to "grandkids, grandparents, and everyone in between," Gidley said. She recommends warm clothes and good footwear since the walk is outdoors and on town streets and tours won't stop until all groups have had a chance to go through. While donations are welcome, the event is also free to attend.
"It's not the type of event that once you've seen it, you can be done with it," Gidley said. "This is just a great way to launch your Christmas celebrations. It's a reminder of why we celebrate Christmas."
To join in the trek, visit the Bala Community Centre at 1008 Maple Avenue on the evening of Dec. 7. Doors open at 5:30 p.m. and guided tours start at 6 p.m.