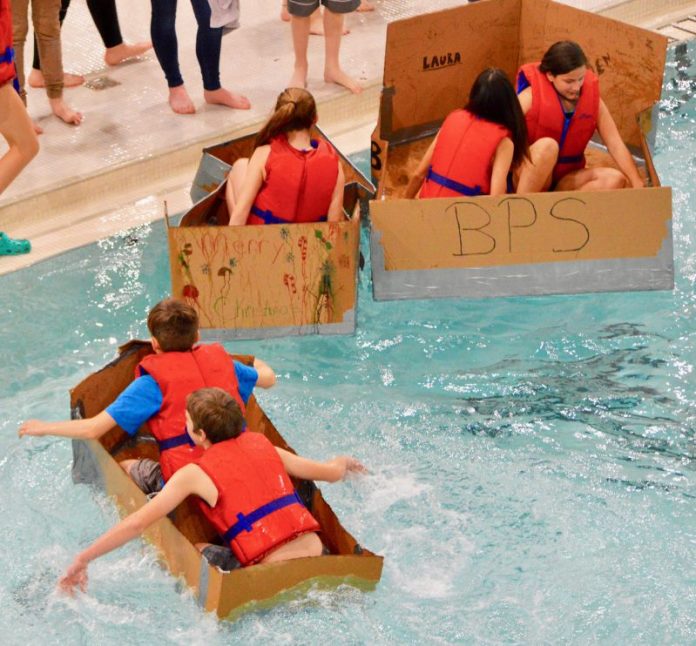 On November 27, 2019, elementary schools within Trillium Lakelands District School Board (TLDSB) participated in the annual Cardboard Boat Races (CBR).
The event took place at the Bracebridge Sportsplex providing Grade 8 students with the opportunity to use problem-solving, teamwork, and design skills to create seaworthy structures out of two sheets of cardboard and duct tape within a two hour time limit.
Once the boat is built, each team of four has the opportunity to compete against others to see which structure will make it across the length of the pool, and hold the weight of each team member.
In total, 25 teams from the 15 area schools competed in the races. Riverside Public School (RPS) took home both gold and silver, and JD Hodgson Elementary School (JDHES) took bronze.
Another component of the event was the second annual Elementary Best in TLDSB TV Production Qualifier Competition! Teams of two used video to capture their classmates building the board and racing. Once edited and finalized, the videos will be submitted to Skills Ontario, who will then determine school ranking in competition with many other schools in Ontario.
The winning CBR teams from RPS and JDHES have been invited to compete at the Skills Ontario Provincial CBR, and the winning TLDSB TV production team will be offered a space to compete at the Skills Ontario Competition.