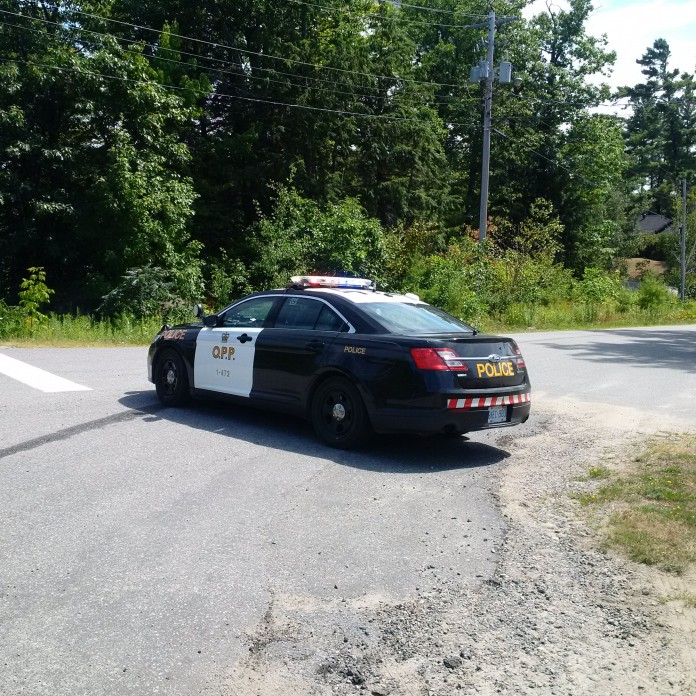 The Civic Day long weekend is one of the busiest long weekends of the year. Once again the Almaguin Highlands OPP officers were busy patrolling local roads, waterways and towns.
This year between Friday August 4, 2017 and Monday August 7, 2017, OPP responded to 77 occurrences in the Almaguin Highlands area and issued a total of 98 Provincial Offences Act charges. These charges include 78 speeding charges, three drivers charged with failing to surrender their licence, five charges of fail to move over for emergency vehicles and numerous other Highway Traffic Act charges. Four drivers were charged for failing to produce insurance card, contrary to the Compulsory Automobile Insurance Act of Ontario.
The marine unit was also out this long weekend patrolling the waters and seven Provincial Offence Notices were issued to operators which include Liquor Licence Act charges and charges under the Canada Shipping Act, Small Vessel Regulations.
Officers conducted seven R.I.D.E. programs throughout the area, checking a total of 92 vehicles. Two drivers were charged with impaired operation that was separate from the R.I.D.E. program.
Almaguin Highlands OPP also investigated three motor vehicle collisions over the weekend. One driver suffered minor injuries and the other two drivers were not injured.
****
The Almaguin Highlands OPP responded to a single ATV accident that occurred on Saturday August 5, 2017 at approximately 5 p.m., when a 24-year-old man from Drayton stuck a tree off West Bear Lake Road. Police investigated the collision and subsequently arrested and charged the driver with driving while ability impaired and driving with more than 80 milligrams of alcohol in blood.
The driver was also charged with off road vehicle – driver – no helmet. He was transported to hospital by EMS with minor injuries. He was released from police custody and is to appear in court in Sundridge on September 28, 2017.
****
The Almaguin Highlands OPP responded to a traffic complaint on Saturday August 8, 2017 just after midnight.
Police initiated a traffic stop and subsequently arrested and charged the driver, a 23-year-old man from Papineau-Cameron Township, with Driving while ability impaired – motor vehicle, and possession of marijuana.
He was released from police custody and is to appear in court on August 24, 2017 in Sundridge.
OPP would like to thank the majority of drivers who drove responsibly this long weekend.