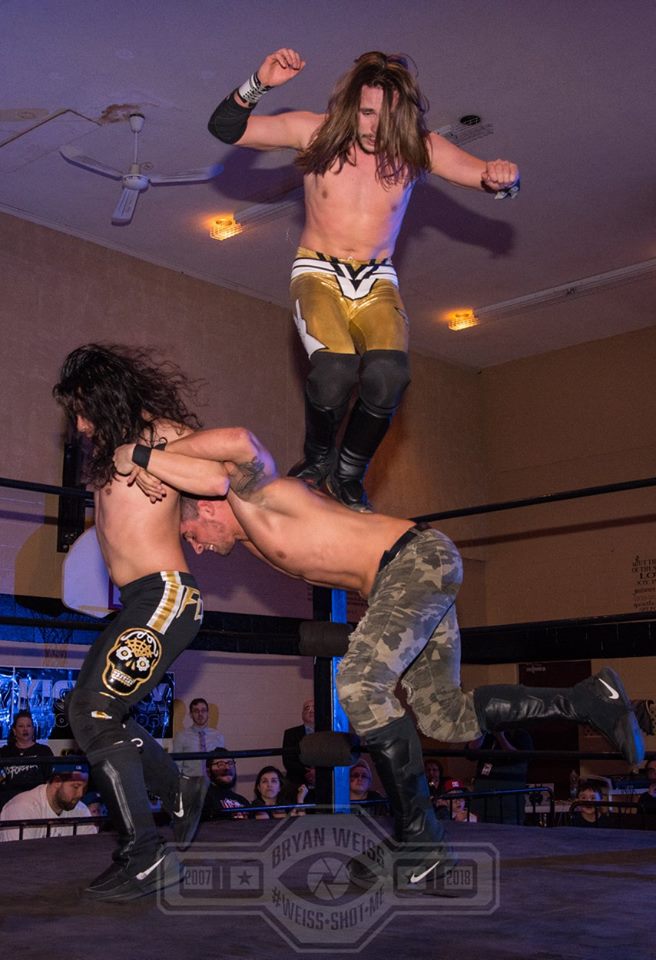 This is the third of a series of interviews with competitors for the upcoming professional wrestling event Mariposa Mayhem, presented by Smash Wrestling and Barrie Wrestling on April 20 at the St. Paul's Centre in Orillia.  For more information head to the Facebook Event page or to Smash Wrestling's website.  For the interview with Tyson Dux, click here, and for the interview with Barrie's Women's Champion Jody Threat, click here.
Names: Vaughn Vertigo and Gabriel Fuerza
Combined Weight: 340 Pounds
Hometowns: 
Vertigo: Port Hope, Ontario.
Fuerza: Atizapan, Mexico
Accolades in Barrie Wrestling or Smash Wrestling: 
Tag Team:  Barrie Wrestling 400 North Tag Team Champions, Smash Wrestling F8ful Eight and 2019 Tag Team Invitational Competitor (which begins April 27th).
Fuerza: Barrie Wrestling Heavyweight Champion, Barrie Wrestling Three Pistols Champion, the only Triple Crown winner in Barrie Wrestling history.
Signature Moves:
Tag Team: Panini Press (Backstabber into a Swanton Bomb), Killstomp (Killswitch with a Double Stomp), Attack Hug (Gory Bomb into a Flatliner)
Vertigo: Vaughnton Bomb (Swanton Bomb), Flying V (Leaping knee into the corner)
Fuerza: Backstabber, Rebound Handspring Cutter, Sliding German Suplex to an opponent sitting on the ropes
What other sports have you played?
Fuerza: Karate for ten years.
Vertigo: I did soccer for five years, and football, oh and I did swim team for one day.
What should the Orillia fans expect from a Fight or Flight match?
Fuerza: We like to get the crowd going.  We're goofy, energetic…
Vertigo: Yeah, we're goofy, energetic, high-flying, fun-loving jerks.
Fuerza: *laughing* Yeah we're jerks, but we're at peace with it.
How did Fight or Flight form?
Fuerza: We were forced to be a tag team.
Vertigo: I hated him.  I had been doing some training, and this guy comes in and he could do everything.  One of the first days he was there he did a backflip, and I had just learned how to do one.
Fuerza: On my second day I did a shooting star press.
Vertigo: Yeah, so I thought "Look at this guy, doing a shooting star, I can't do a shooting star."  And I was the guy who was doing all the crazy flippy stuff, but this guy comes in and what do I have left?  Eventually I debuted, and then it turned out he was debuting the same night.
Fuerza: I wasn't ready, so I looked like Mexican Fandango.  I didn't have any gimmicks.
Vertigo: After that, Squared Circle training put us together as a tag team with Alexia Nicole as the Candy Kids, which were ravers, and we are the farthest thing from ravers, but we embraced it in the end.  And then after that, we formed Fight or Flight.
Fuerza: Yeah when Squared Circle closed, we rebranded as Fight or Flight.
Where did the name Fight or Flight come from?
Vertigo: Probably him.
Fuerza: I think me, but we had a few ideas in the bank.  Fight or Flight just made the most sense.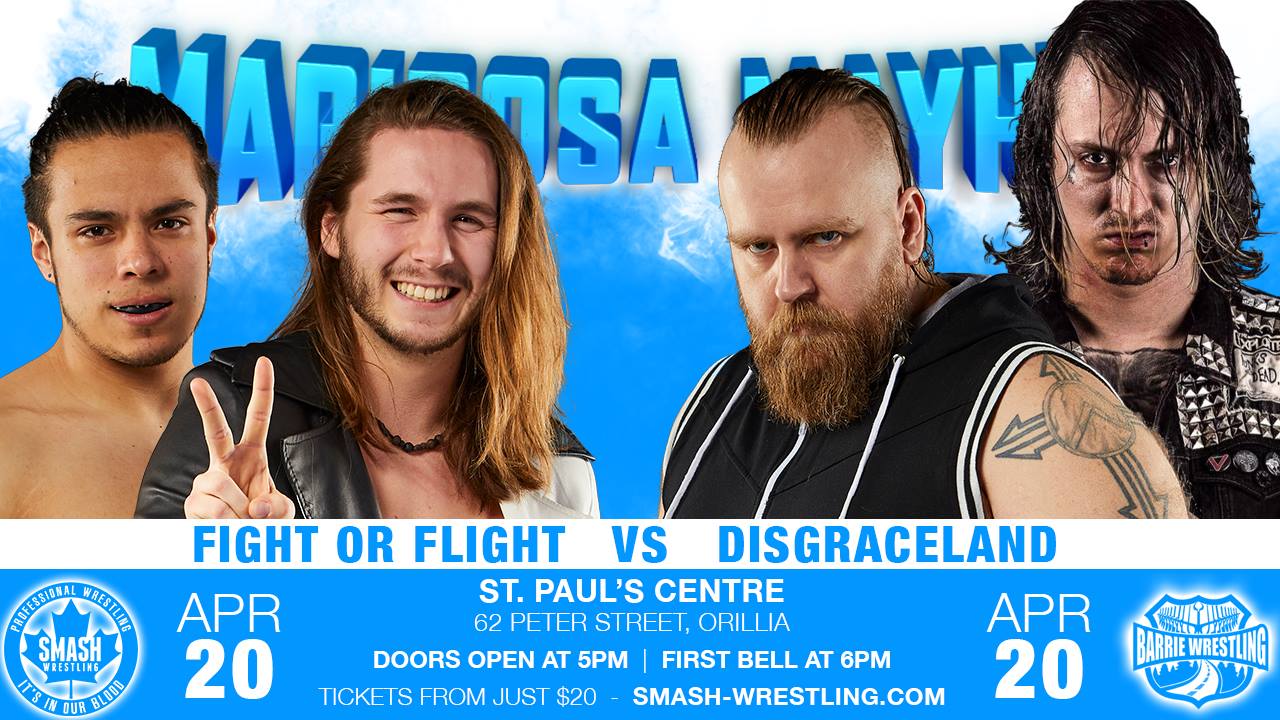 You guys are a tag team, but you've had a lot of matches against each other.  Is it enjoyable to beat up your best friend?
Vertigo: You definitely hit each other harder.
Fuerza: Typically yeah,  I get excited to have matches with him.
Vertigo: We know each other's moves, because we've literally known each other for nine years.  Sometimes we'll pull off moves that we haven't used in six years, so there's a sense of excitement about that.
When you were first starting out, did you want to be a tag team wrestler or were you looking more at being a singles wrestler?
Vertigo: I didn't think about it.
Fuerza: I didn't think about it either, it was just kind of however the cards would play out.
Vertigo: I think we both have comfort in doing both.  We both like having our own identities but also having an identity collectively.
What was the moment you knew you wanted to be a wrestler?
Vertigo: Royal Rumble, 2007.  The ending sequence of Shawn Michaels and Undertaker blew my mind.  That and Jeff Hardy in general.
Fuerza: I don't think I have a moment where I was like "I'm going to be a wrestler," I just kind of decided along the way.  But probably [Eddie] Guerrero and [Rey] Mysterio at Halloween Havoc 1997.
Vertigo: You were like six years old.
Fuerza: I didn't watch it live, my parents showed it to me in like 2004.
Vertigo: Yeah, your parents are also wrestling fans.
Vaughn, were your parents wrestling fans?
Vertigo: My parents were not wrestling fans.  I discovered wrestling because one of my friends growing up was related to Trish Stratus, and I didn't really know anything about wrestling.  He would talk about her, he literally did a speech in front of the school and I didn't know who she was.  Then I met her several times, and I started playing the Smackdown vs. Raw video games and that got me into wrestling, and I was "Oh, Trish Stratus, she's cool."  She was at my Grade 8 graduation from public school.
What is your favourite match from either Barrie Wrestling or Smash Wrestling that you have been in?
Fuerza: Our recent match with Kill/Screen and Well Oiled Machines (Smash Wrestling's Any Given Sunday 7, January 27, 2019).  I really think that was the cleanest, the most fun.
Vertigo: I think my favourite in Smash was technically our Smash TV debut, it was with TDT (Le Tabarnack de Team), just because the crowd didn't know what to expect.  As for Barrie, I would say my match with Brent [Banks]. (Author's note: This match occurred in August 2017 and won Barrie Wrestling's Match of the Year award)
What are your goals and things you want to accomplish in Canadian Independent Wrestling?
Fuerza: I just want to be in the "A" tier.  I think right now we're a solid "B," but the "A" guys are like Josh [Alexander], Tyson [Dux], and Tarik.
Veritgo: Like we can be counted on, but we want to break through that mold.  I would also say general, I want the Canadian Indies to be paid attention to more on a global scale, I would like more people to be watching.
You can catch Fight or Flight and all of the other stars of Smash Wrestling and Barrie Wrestling live on April 20th at the St. Paul's Centre (62 Peter St. N, Orillia), for more information head to the Facebook Event page or to Smash Wrestling's website.