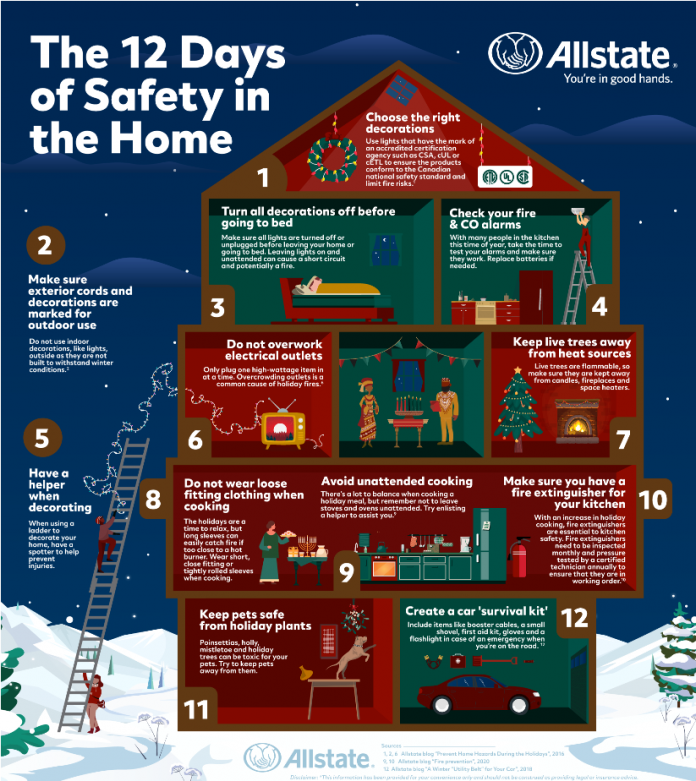 With more people looking to spend the holidays at home this year, Allstate Canada wants to make sure Canadians stay safe as they prepare their homes.
Allstate agents know first-hand the importance of ensuring that their customers are adequately protected. As such, Allstate Canada has developed the 12 important safety tips to keep in mind when preparing for the holiday season:
Do not overwork electrical outlets: Only plug one high-wattage item in at a time. Overcrowding outlets is a common cause of holiday fires.
Choose the right decorations: Use lights that have the mark of an accredited certification agency such as CSA, cUL or cETL to ensure the products conform to the Canadian safety standard and limit fire risks.
Have a helper when decorating: When using a ladder to decorate your home, make sure you have a spotter to help prevent injuries.
Keep live trees away from heat sources: Live trees are flammable, make sure they are kept away from candles, fireplaces and space heaters.
Turn all decorations off before leaving or going to bed: Make sure all lights are turned off or unplugged. Leaving lights on and unattended can cause a short circuit and potentially a fire.
Create a car 'survival kit': Include items like booster cables, a small shovel, first aid kit, gloves and a flashlight in case of an emergency when you're on the road.
Keeping pet's safe from holiday plants: Poinsettias, holly, mistletoe and holiday trees can be toxic for your pets. Make sure to keep pets away from them
Make sure exterior cords and decorations are marked for outdoor use: Do not use indoor decorations, like lights, outside as they are not built to withstand winter conditions.
Avoid unattended cooking: It is tricky to balance cooking and entertaining guests but remember to never leave stoves and ovens unattended. Try enlisting a helper to assist you.
Check your fire and CO alarms: With many people in the kitchen this time of year, take the time to test your alarms and make sure they work. Replace batteries if needed.
Make sure you have a fire extinguisher for your kitchen: With an increase in holiday cooking, fire extinguishers are essential to kitchen safety. A fire extinguisher should be tested every five years to ensure it is in working order.
Never wear loose fitting clothing when cooking: The holidays are a time to relax, but long sleeves can easily catch fire if too close to a hot burner. Wear short, close fitting or tightly rolled sleeves when cooking.